We at Temple Bet Yam are horrified  by the anti-Semitic  attack on the Tree of Life Congregation in Pittsburgh, and we are grieving. We mourn as one people and continue to pray for Tikkum Olam, "Repair of the World".  
We share with you this Poem by Sarah L Young, "Kaddish for Pittsburgh", written Saturday the 27th.
Sarah L. Young author
October 27 at 3:53 PM
I am so tired, And so afraid
And so tired of being afraid.
After a shooting we send thoughts and prayers
But today in the shul, people were thinking
And praying.
A baby was given his name,
Punctuated by the sound of gunfire
As his community was slaughtered.
I'm reminded of a story I read once
Of a Brit mila happening during the holocaust.
The moyel's hands were shaking as the family heard the boots
Of SS guards just outside.
The mother turned to the moyel and whispered
"If he must die, he will die a Jew"
And the baby was circumcised and named.
And although the SS were doing an inspection of the school next door,
And not there for the family of Jews
Hiding in an abandoned building,
They were so close to death.
That baby today was just as close.
He may as well be named Kaddish
For the prayer over the dead,
Which he will say all his life,
For the community he lost on the day
He joined it.
His lips will move,
His tongue twisting over the complicated sounds of Aramaic.
Yitgadal v'yitkadash sh'mei raba.
He will learn the words
B'alma di v'ra chirutei, v'yamlich malchutei, 
That no child should ever have to.
b'chayeichon uv'yomeichon uv'chayei d'chol beit Yisrael,
He will chant them yearly
baagala uviz'man kariv. V'im'ru: Amen.
With his congregation,
Y'hei sh'mei raba m'varach l'alam ul'almei almaya.
Eleven members fewer than when they woke up this morning
Yitbarach v'yishtabach v'yitpaar v'yitromam v'yitnasei,
As they walked to shul
v'yit'hadar v'yitaleh v'yit'halal sh'mei d'Kud'sha B'rich Hu
To offer their thoughts and prayers to G-d
l'eila min kol birchata v'shirata,
For a nation so broken
tushb'chata v'nechemata, daamiran b'alma. V'imru: Amen.
As to let this happen.
Y'hei sh'lama raba min sh'maya,
Every year on this day, the shul will take three steps back
v'chayim aleinu v'al kol Yisrael. V'imru: Amen.
Bow to each side and then forward.
Oseh shalom bimromav, Hu yaaseh shalom aleinu, v'al kol Yisrael. V'imru: Amen.
They will say these words as they pray for the dead,
Pray for the mourners, and pray for peace.
May the One who creates harmony on high, bring peace to us and to all Israel
V'imru,
And let us say,  Amen.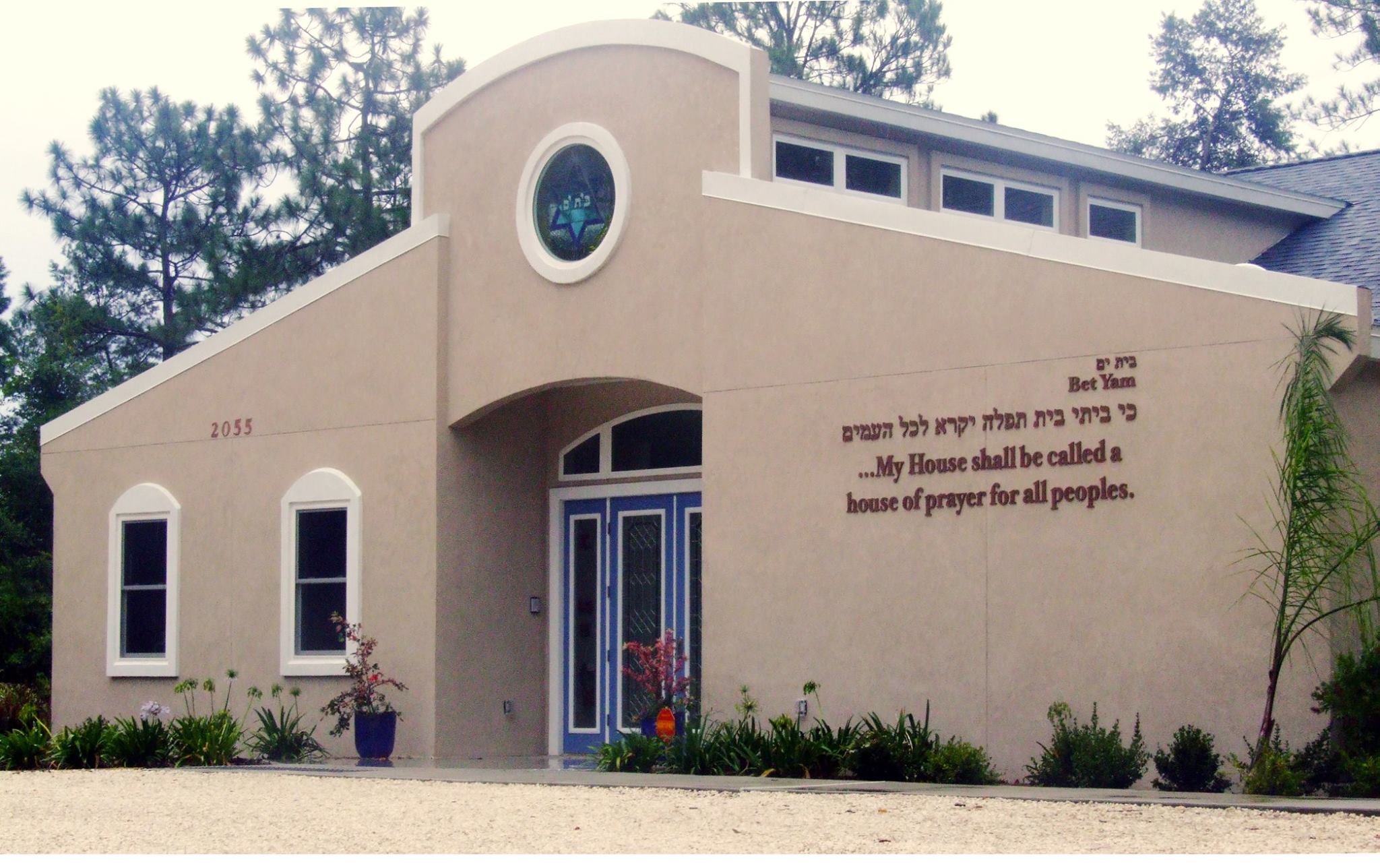 Temple Bet Yam is a Reform Congregation serving Northeast Florida, providing a strong sense of Jewish community within a warm and welcoming environment.
2055 Wildwood Dr.
St. Augustine, Florida
904 819-1875
Mailing Address: P.O. Box 860098
St. Augustine, Florida 32086
templebetyam@gmail.com
---
| | | |
| --- | --- | --- |
| About Us | Our Worship Schedule | Something for Everyone |
| Temple Bet Yam was founded in 1993. Our members come from a blend of traditional and interfaith backgrounds. The congregation is diverse, open, and caring, with a sense of belonging and togetherness. | Shabbat services are held twice a month along with additional holiday observances and life cycle events. Music is an integral part of our service. The calendar with all our events can be found at templebetyam.org | Temple Bet Yam offers a wealth of opportunities to become active. Whether singing in the choir or enjoying the camaraderie of Sisterhood, Men's Club, Lifelong Learning, or Social Justice, the level of involvement is a personal choice left to each congregant. |