Temple Bet Yam is continuing its spiritual and
community activities, welcoming prospective members
and families to join our TBY Family.  Please call our
office for further information about any of the upcoming
events. 904.819.1875

Saturday, September 12th, 7:30pm Lay Led Selichot Service




Sunday, September 13th, 9:00am Religious School




Friday, September 18th, 6:30pm Yahrzeit Service




Friday, September 18th, 7:30pm Erev Rosh Hashanah Shabbat Service




Saturday, September 19th, 9:00am, Children's Rosh HaShanah Service




Saturday, September 19th, 10:00am, Rosh HaShanah Service




Monday, September 21st, 5:00pm, Dining with Dignity




Sunday, September 27th, 7:30pm, Kol Nidre/Erev Yom Kippur Service




Monday, September 28th, 9:00am, Children's Yom Kippur Service




Monday, September 28th, 10:00am, Yom Kippur Service




1:00pm Afternoon Small Group Sessions




3:45pm Yizkor Memorial Service




5:00pm Afternoon and Neilah Service
IMPORTANT MESSAGE
Date:  June 1, 2020
Temple Bet Yam is open and functioning!  Only our building
is closed.  We are caring for each other and doing a lot of our
activities via Zoom.  On our calendar are the activities we
have scheduled for the coming year, as if things were
"regular." Zoom links are sent to members for our worship
services, Torah study, meetings, book clubs, and so forth. 
We look forward to the day when it is safe to gather together
in person.  Until then, the TBY  family is here online.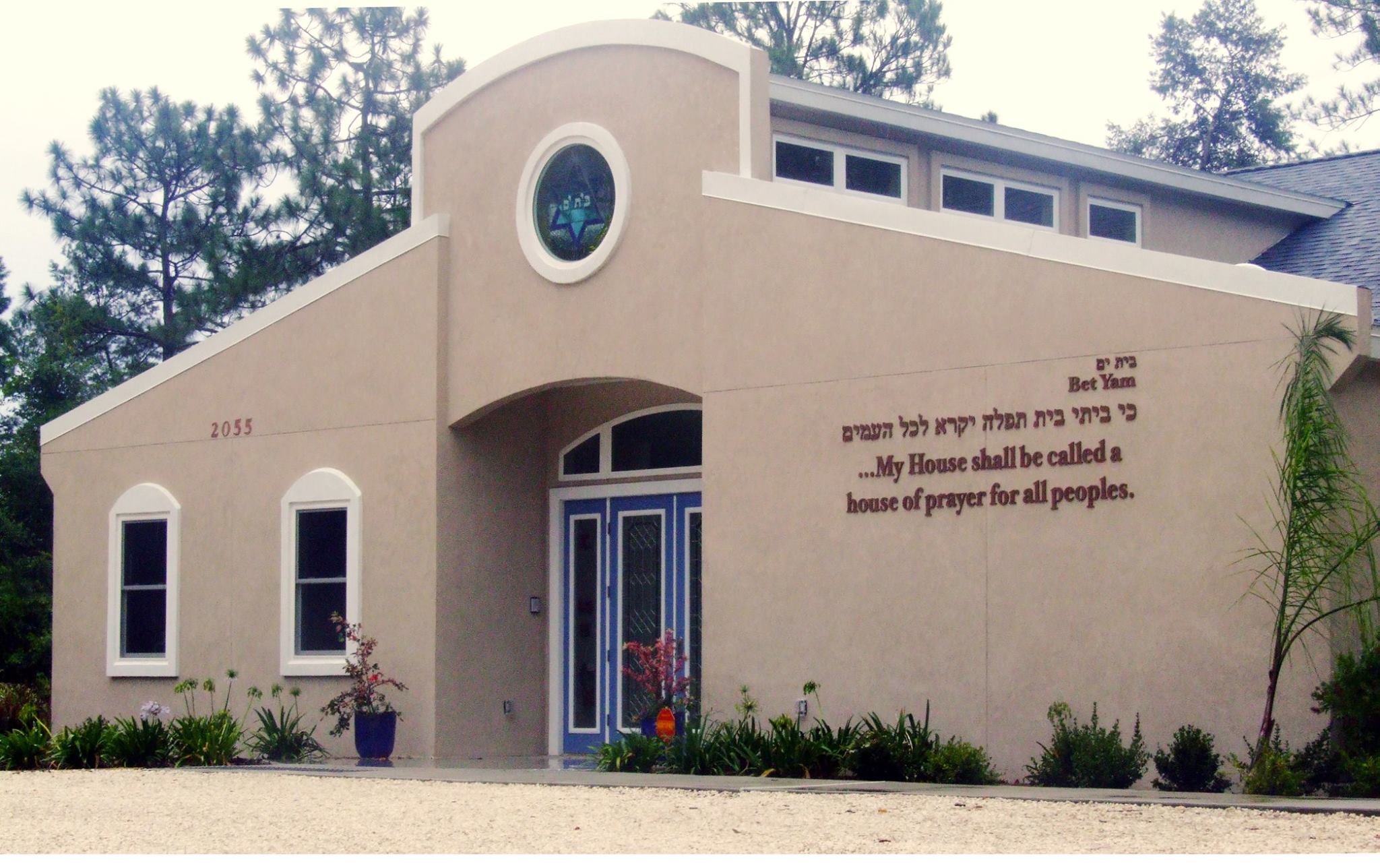 Temple Bet Yam is a Reform Congregation serving Northeast Florida, providing a strong sense of Jewish community within a warm and welcoming environment.
2055 Wildwood Dr.
St. Augustine, Florida
904 819-1875
Mailing Address: P.O. Box 860098
St. Augustine, Florida 32086
templebetyam@gmail.com
---
| | | |
| --- | --- | --- |
| About Us | Our Worship Schedule | Something for Everyone |
| Temple Bet Yam was founded in 1993. Our members come from a blend of traditional and interfaith backgrounds. The congregation is diverse, open, and caring, with a sense of belonging and togetherness. | Shabbat services are typically held twice a month, depending on holiday observances and life cycle events. Music is an integral part of our service. The calendar with all our events can be found at templebetyam.org/events | Temple Bet Yam offers a wealth of opportunities to become active. Whether singing in the choir or enjoying the camaraderie of Sisterhood, Men's Club, Lifelong Learning, or Social Justice, the level of involvement is a personal choice left to each congregant. |