Mah Jongg Tournament Thursday, February 17, 2022 Scroll down for information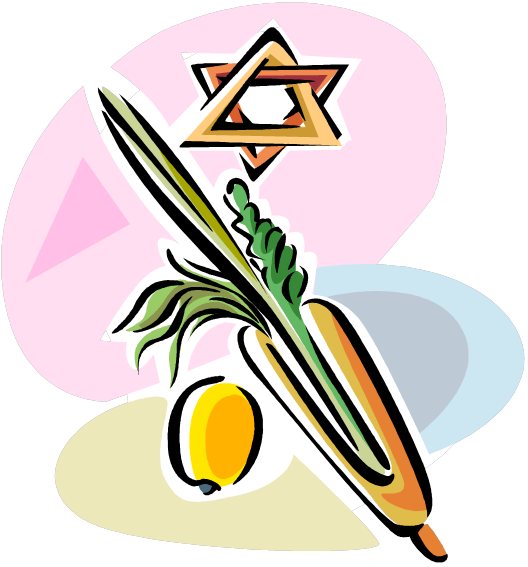 TBY continues its tradition of warmth and  welcomes
all who wish to join us. Please call our office
904.819.1875 or check out our  Calendar  for further
information about upcoming events.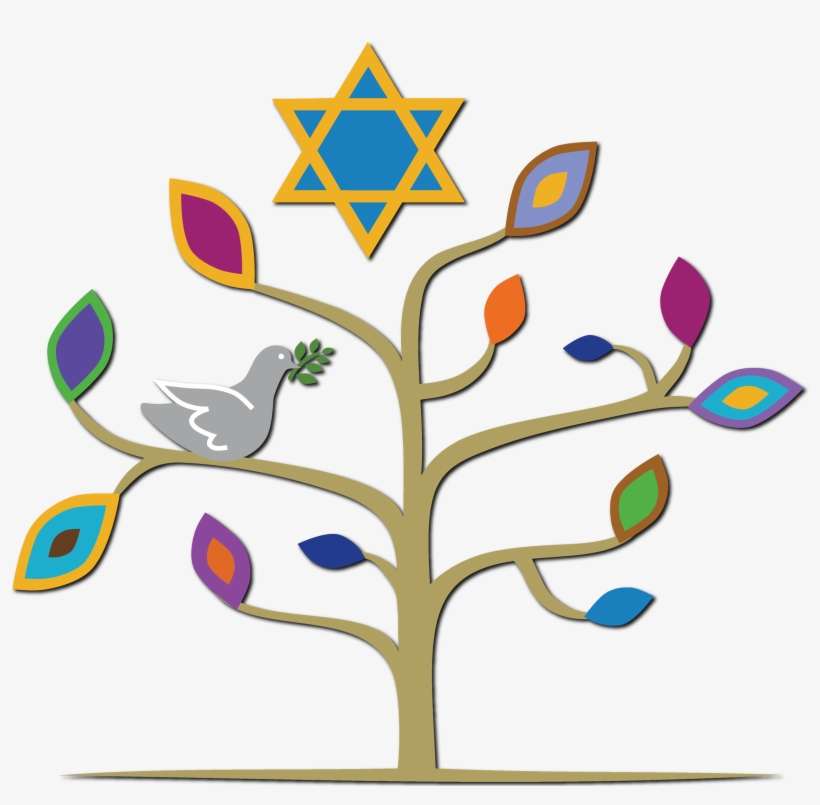 IMPORTANT MESSAGE
Date:  November 14, 2022
Temple Bet Yam is open! We are pleased to announce that we
are open for in-person services. Onegs are back! For those
unable to attend in person, services will be available at:
YouTubeTempleBetYam.  On our calendar you can find all the
activities we have scheduled for the coming year. We look
forward to seeing everyone back in the Temple.
Please click  HERE  for a link to our current building rules.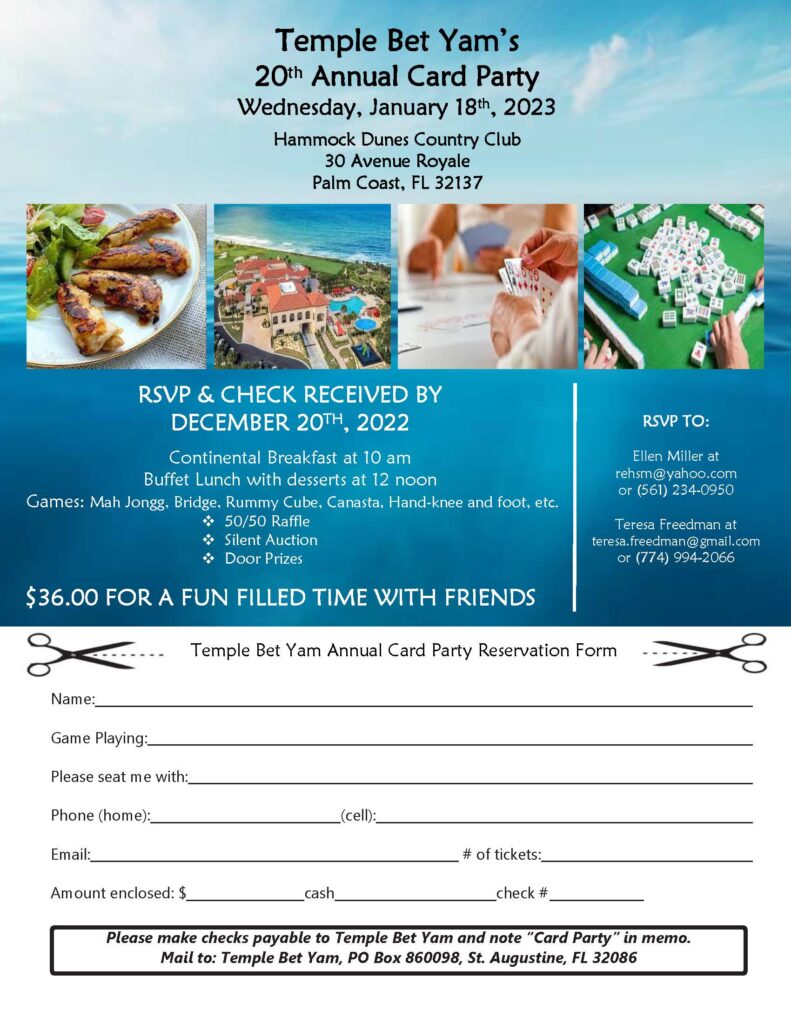 TEMPLE BET YAM'S ANNUAL CARD PARTY
Temple Bet Yam of St Augustine is holding its ever popular annual card party at beautiful Hammock Dunes Club, 30 Avenue Royale, Palm Coast, FL, on Wednesday, January 18, 2023.  Join your favorite game – Mahjong, Bridge, Rummy Cube, Canasta, Hand Knee and Foot, and more. Enjoy coffee and pastries which begin at 10 a.m. and will be followed by a buffet luncheon at noon. Buy a ticket for yourself and treat your spouse or a friend to a fun day!  Tickets are $36 per person. For information and reservation forms, please  contact Ellen Miller at  rehsm@yahoo.com or Teresa Freedman at teresa.freedman@gmail.com.  Payment must be received by December 20, 2022.  Checks are made payable to Temple Bet Yam and mailed to Temple Bet Yam, P.O. Box 860098, Saint Augustine, FL 32086.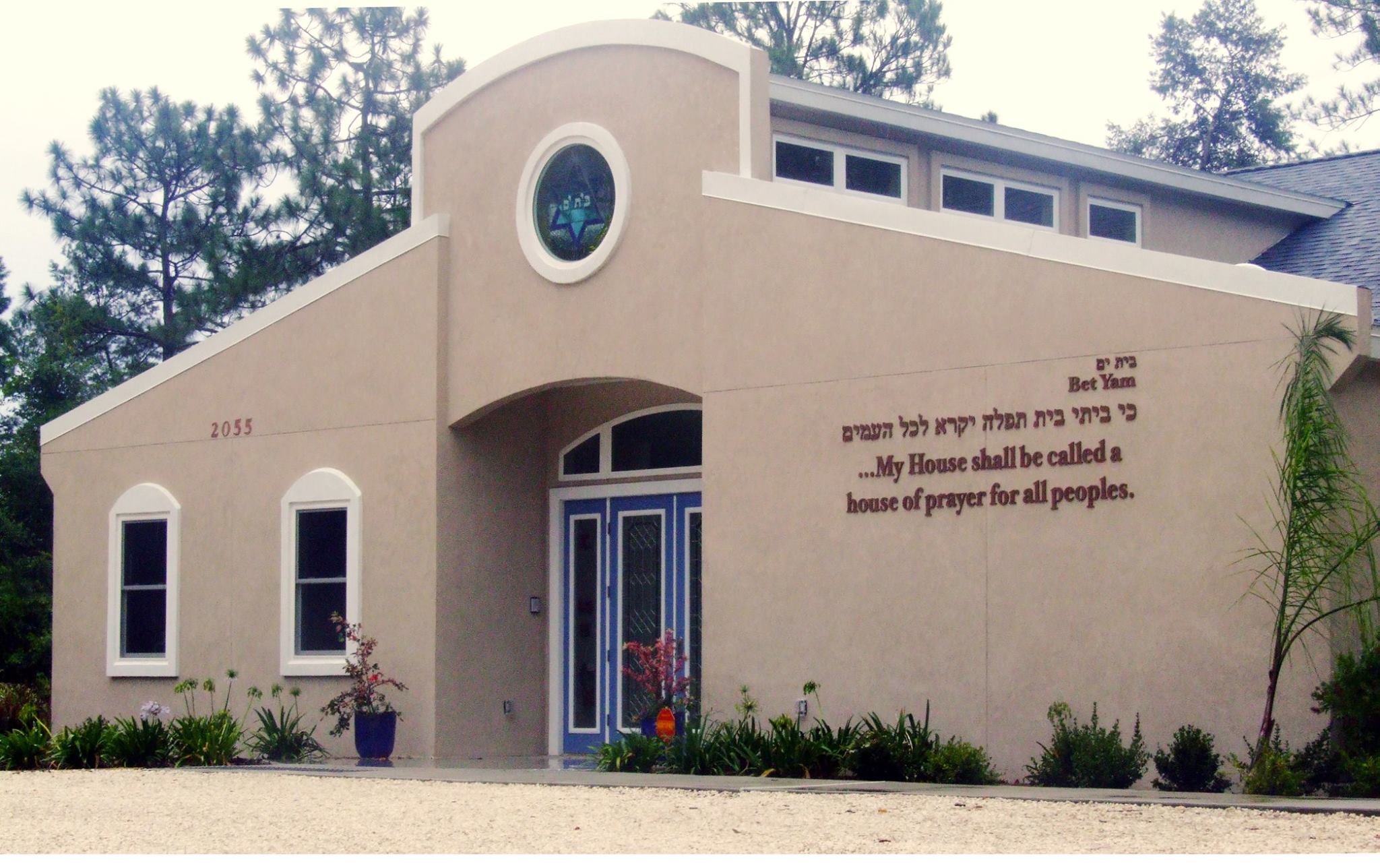 Temple Bet Yam is a Reform Congregation serving Northeast Florida, providing a strong sense of Jewish community within a warm and welcoming environment.
2055 Wildwood Dr.
St. Augustine, Florida
904 819-1875
Mailing Address: P.O. Box 860098
St. Augustine, Florida 32086
templebetyam@gmail.com
---
| | | |
| --- | --- | --- |
| About Us | Our Worship Schedule | Something for Everyone |
| Temple Bet Yam was founded in 1993. Our members come from a blend of traditional and interfaith backgrounds. The congregation is diverse, open, and caring, with a sense of belonging and togetherness. | Shabbat services are typically held twice a month, depending on holiday observances and life cycle events. Music is an integral part of our service. The calendar with all our events can be found at templebetyam.org/events | Temple Bet Yam offers a wealth of opportunities to become active. Whether singing in the choir or enjoying the camaraderie of Sisterhood, Men's Club, Lifelong Learning, or Social Justice, the level of involvement is a personal choice left to each congregant. |