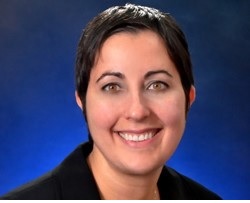 Rabbi Nadia Siritsky first came to Temple Bet Yam in 2018 to lead High Holy Day services, having missed the congregational rabbinate while serving full-time as a hospital administrator in Louisville, KY. This visit turned into a second and third visit and soon she was counting down the seconds until she could return again. She quickly fell in love with Temple Bet Yam's warm, down-to-earth, and welcoming congregation, where "people really walk the talk and live their faith in authentic and beautiful ways."

Originally from Montreal, Canada, Rabbi Dr. Nadia Siritsky, MSSW, BCC, studied in Jerusalem at several Orthodox yeshivas prior to beginning her studies as a Reform rabbi at Hebrew Union College. For Rabbi Nadia, studying Judaism from traditional perspectives was crucial because "it was important to understand what we are reforming." Rabbi Nadia believes in making educated choices from the rich set of resources provided by Jewish tradition, in order to ensure that every ritual and prayer is meaningful. In addition to her rabbinic studies, she is a board certified interfaith chaplain and a social worker. She completed her doctorate in ministry and pastoral counseling as well as having trained as a mediator, Reiki practitioner, and Yoga instructor. She integrates all these disciplines into her study of Torah and is passionate about helping all seekers find their own personal and unique connection to Torah.
Rabbi Siritsky was a founding board member of the Society of Classical Reform Judaism, due to her unwavering commitment to advocacy for interfaith families and the creation of inclusive Jewish communities that are unconditionally welcoming of all spiritual seekers, regardless of their religious background, relationship status, identity, or Hebrew speaking ability. In addition to a decade working in synagogues, teaching, counseling, and participating in life cycle events, she also worked with the American Red Cross after 9/11, providing counseling, prayer, and support at the Family Assistance Center, Ground Zero, and the New York City Morgue. 
Rabbi Nadia is honored by the opportunity to serve as rabbi and spiritual leader of Temple Bet Yam. She is excited about deepening her relationships with current members while welcoming new faces, and she offers her support to all in their individual spiritual journeys.