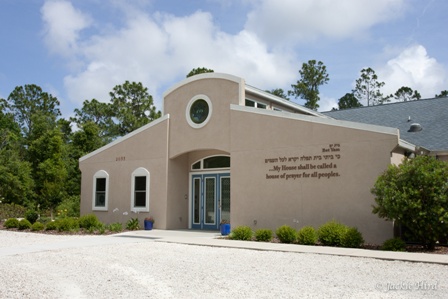 B'REISHIT-IN THE BEGINNING
The Beginning of Temple Bet Yam
During the summer of 1993 two couples met at a downtown concert. Both lamented the absence of a Reform Jewish Congregation in the St. Augustine, Florida, community. Together, they planned to visit congregations in adjoining communities with the hope of finding a congregation they would be comfortable in joining. It soon became apparent that such a congregation did not exist and what started in jest, "We may have to start our own congregation!," started to become a reality.
After contacting the Union of Reform Judaism (then the Union of American Hebrew Congregations) for advice, a meeting was scheduled in October with those in the community who indicated an interest in a Reform Congregation. From that meeting, a list of goals were created. Those goals still exist in today's mission and goals of Temple Bet Yam. The first service was held in December, 1993, at a nursery school, where people brought their own chairs. Following the service celebrating Chanukah as well as Shabbat, the decision was made to have another service in January. Since the first nursery school was too small, a second nursery school was chosen. However, the second site was too small as well.
By February, 1994, the group moved to the Unitarian Fellowship Hall at their invitation, corporate papers were filed, the name Temple Bet Yam ("Temple By The Sea") was chosen, and 14 families committed themselves to become founding members. Soon the Congregation received an ark (now our Judaica Shop) and our first Torah. The Torah was ceremoniously brought to the synagogue after the newest Jewish Congregation paraded it through the oldest city in a horse drawn carriage, with police escort.
As we look at Temple Bet Yam today, we have 110 family members from not only the St. Johns County community but from surrounding counties. We have built a "Home of Our Own," and one could say "And the rest is history!"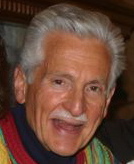 Rabbi Mark Goldman, Rabbi Emeritus of Temple Bet Yam
Rabbi Mark was ordained in 1967, was a U.S. Army Chaplain during the Vietnam War, was Assistant Rabbi at Temple Emanu-El of New York City, then Senior Rabbi at Rockdale Temple in Cincinnati until 2004 when he "retired". He then became the first permanent Rabbi of Temple Bet Yam. Rabbi Mark served as our Rabbi until 2013 when he re-retired and he and his wife, Dr. Meryl Goldman, moved to Sarasota. It was under Rabbi Mark that we built our first synagogue (pictured above).